Voice of Vietnamese Americans welcomes all State Legislators back today, January 9, 2013, to begin 2013 Legislative Session. This year policy makers will face challenges as well as opportunities to truly illuminate the American core values, embedded in our power of the people, starting with the voting rights.
Voice of Vietnamese Americans advocates for the following:
1. Voting Rights: Protect voting rights for all citizens.
2. Health Care: Ensure affordable health care for all people.
3. Housing: Ensure affordable housing and sustainable home ownership.
4. Education: Ensure quality education for all children from K-12. Promote higher education opportunity by making tuition affordable to all.
5. Public Safety: Pass stricter Gun Control Laws, with background check and mental health status carefully monitored.
6. Promote jobs and ensure capital accessibility to small businesses.
Voice of Vietnamese Americans urges all of us to get engaged by fulfilling our civic duties.
More information about the Virginia General Assemby can be found in the link below:
http://virginiageneralassembly.gov/virginiaLegislature.php?secid=20&activesec=2#!hb=1&mainContentTabs=0
Citizen Involvement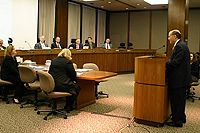 A citizen testifying before a committee
As a citizen of the Commonwealth of Virginia, one of your greatest responsibilities is to help elect the legislators who represent all Virginians. But your role in the democratic process of government does not end at the polls. By sharing your opinions and ideas with your elected officials, you help them resolve issues and evaluate pending legislation.
There are a number of online resources available on the Virginia General Assembly website to assist you in taking an active role in the legislative process: